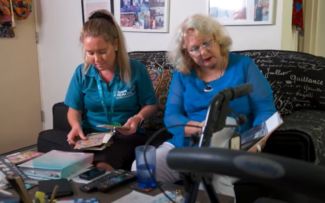 Home Care Packages
It is a government subsidised program where an allocation of funds is approved which enables to purchase care services to support people's independent lifestyle.
People are in control to choose the type of care and services they receive, how it is delivered and the support they want and need. Aged Care Home Care Packages services can be accessed at Darwin, and Palmerston. All Indigenous Australians aged 50 years and over and non-Indigenous Australians aged 65 years and over are eligible.
Types of Support can include:
Packages are designed to support independent living, health and wellness goals and include:
Domestic assistance with everyday household tasks such as shopping, house cleaning, laundry and paying bills.
Meal preparation or Meals on Wheels.
Prompting medication.
Gardening and home maintenance.
Transport and assistance with medical appointments.
Personal care such as assistance with showering.
Social and community engagements.
Case management.
To find out more watch our short video by clicking here
Next steps

1. Organise your assessment with My Aged Care by calling 1800 200 422.
2. The Aged Care Assessment Team (ACAT) will conduct an assessment for you and confirm your eligibility.
3. Contact TeamHEALTH on 1300 780 081 as your preferred provider or via our online contact form.
For further information about this service or for a referral please contact TeamHEALTH online, by email or phone 1300 780 081.

Click here to see our Home Care Packages Price List