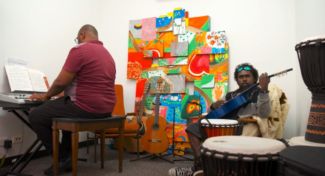 TeamHEALTH Community Hub
The TeamHEALTH Community Hub is a welcoming place where participants can socialise and take part in a range of activities. This daily drop-in centre is based on structured social, recreational, and educational activities. These are all aimed at supporting living at an optimal level of independence.
Some of the activities offered through the Community Hub include:

Access to resources such as computers and musical instruments
Budgeting and practical support with responsibilities
Cooking, art, and community outings in a group setting
Finding and/or keeping a job
Developing living skills to maintain tenancy
The TeamHEALTH Community Hub program is located at the Rapid Creek Business Village.

Opening hours as of 1 July 2020 will be:
Monday to Friday – 10am - 3pm
* Transport to the Hub is now available. To find out more, please contact the Community Hub on 0418 519 038
Referrals are accepted from any source including self-referral.

Call us if you wish to discuss this service in more detail or simply complete and submit the below referral form.

(Please note that you will be able to access an editable PDF through Google Chrome or Explorer browsers.)