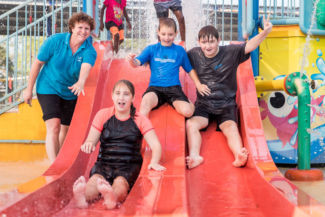 Children and Families
We provide tailored, flexible assistance and a range of support for children and youth, aged 0-18, along with families, caregivers and support networks who are dealing with mental health issues.
You and your family are in the centre of our care plans, where we listen, support and identify your strengths to help you build on your goals and enhance overall wellbeing so that you can live a full and valued life.
What does this service provide?
Respect—for you and your family
Privacy—access to any information provided to our team is limited within the team
Support— for you, your children and your family to build a safe, nurturing environment through intervention, connecting or referring you to other services and through developmental stages e.g. feeding, sleeping and education
Opportunities – to participate alongside other families in a range of 'meet and greet' events and culturally appropriate community outreach. Such as mental health promotion/education and community development activities, including general group work with children, young people and their families/carers
Where can I access this service?
We provide a home visiting service for families in the Palmerston/Litchfield and Katherine areas. We also have a Family and Youth Service in Gunbalanya.
Next Steps
Call us and ask about how you can access support.