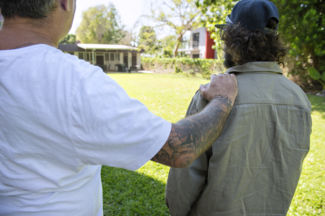 The Way Back Suicide Recovery and Support
The NT has the highest suicide rate of any Australian state or territory by a significant margin.
An initial trial of The Way Back, funded by the Movember Foundation, was launched in Darwin in June 2014, and was delivered locally, with oversight from Beyond Blue. An independent evaluation was conducted by Ernst & Young, which led to a second iteration of the service ran in 2016/2017.
Funded by NT Health, NT Primary Health Network and Beyond Blue for its third iteration, TeamHEALTH has been delivering The Way Back, since May 2020.
People who have attempted suicide, or experienced a suicidal crisis, often experience severe distress in the days and weeks immediately afterwards and are at high risk of attempting again.

Beyond Blue have developed The Way Back Support Service to support them through this critical risk period.

A Support Coordinator contacts the person within one business day of receiving their referral and works with them to tailor a program for up to three months after discharge from hospital.

Call us if you wish to discuss this service in more detail or simply complete and submit the below referral form.